.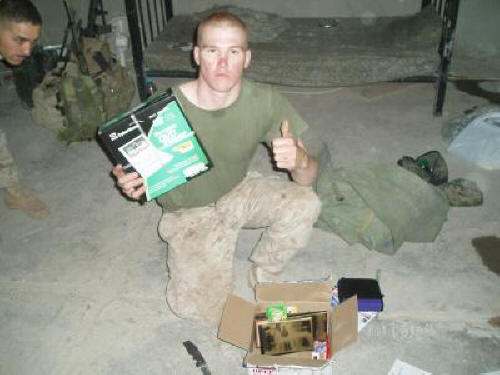 Thousands of Americans just like James are in harm's way at this moment. Many of them have trouble paying for calls home, have trouble paying for their plane ticket home from Washington D.C. on leave, or worry about their families affording necessities back at home. If you would like to support our troops in Iraq, Afghanistan and in other remote areas of the world, you have many options. Here are just a few of them:
donate frequent flyer miles
donate to Operation Hero Miles (free flights home inside U.S.)
donate a calling card
donate to military relief societies
support Gifts from the Home Front (exchange vouchers)
support the Gift of Groceries program (for families)
send virtual messages and e-mails
donate to scholarships for military children
support wounded veterans
Unless you have been in the military and spent a long time in a far away and dangerous place, you cannot imagine how much even the smallest gesture can mean. One soldier ... one note from someone who cares ... one phone card to give the soldier some extra time on the phone with his mom, his spouse, his brother or sister ... you will never regret such a gift.
For a complete list of all possible ways that you can support our troops, click on the following link and then click Make a Difference. Then click on the type of support you want to provide. You will be directed to the links of scores of organizations that can assist you:

If you would like to put together your own Care Package, here are a few items that soldiers back from Iraq have specifically told me they like to receive:
movie DVDs
board games
Mach 3 or Fusion razors
Gerber/Leatherman multi-tools
sunglasses (Oakley$ popular)
cigarettes or dip (if they use)
Gold Bond powder
Cruex powder
alcohol (baby) wipes
energy drinks
gum
power bars
granola bars
canned tuna
cookies
candy bars
coffee
SureFire tactical flashlight
clip on LED light
LED headlight, red/white option
bar soap
boot gel insoles
Chapstick
hand sanitizer (Purell etc.)
sunblock 30 SPF+
Whitewater/Flight Nomex tactical gloves
weightlifting stuff (gloves, belt)
lens anti-fog
Fabreze
Armor Fresh
soccer shorts / tee shirts
digital camera (3 mpxl +)
hand-held gaming devices
air-inflatable pillow
shower shoes (black Adidas etc.)
canned air
AA and AAA batteries
travel size rolls of TP
MP3 player/IPOD
space blanket
Here are some other ideas:
WHAT TO SEND AND WHERE TO FIND IT
Remember, when soldiers receive packages from Americans unknown to them, it says something very special to them. It says, "what you are doing means something to me."