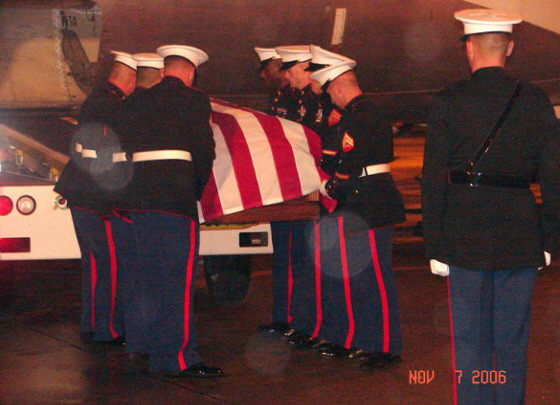 STANDIFORD FIELD, 9:10 P.M., NOV. 7, 2006
NOVEMBER 7, 2006
Transfer Ceremony and Last Journey Home
James arrived at Louisville International Airport at 9:10 p.m. on Tuesday night in a light misting rain. He was carried from Dover Air Force Base by civilian flight and was accompanied by a Marine honor guard.
Waiting at the airport were James' mom, Jody, his brother, Dillen, his sister, Carma, his fiance, Jamie Coleman, about 25 relatives and close family friends, and Reverend Bob Douglas of the First General Baptist Church in Owensville. The group was transported to the misty tarmac by motorcade which passed under two bucket trucks creating a lighted arch with a giant American flag flying overhead. Waiting on the tarmac were a dozen Marines at attention forming an aisle leading to James' flag-draped casket which was still on a lowered aircraft elevator. Behind the two lines of Marines were lines of Marine Legion members and other veterans. Several dozen people watched from the terminal windows.
When everyone saw James' casket for the first time, reality washed over everyone with a powerful emotional surge.
In a solemn transfer ceremony, the Marines carried James from the aircraft elevator to a waiting hearse brought to Louisville by the Holder Funeral Home in Owensville.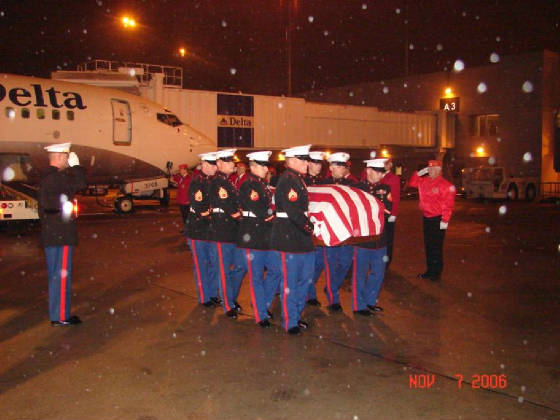 TRANSFER CEREMONY AT LOUISVILLE INTERNATIONAL AIRPORT (PHOTO BY MARY HESS)
The police-escorted motorcade then left the airport and crossed into Indiana where other cars and Patriot Guard motorcycles joined it. Tributes were waiting at every overpass for over 100 miles. Starting at the Corydon overpass, firetrucks, emergency vehicles and police cars illuminated the path of the returning hero and adorned it with American flags.
When the motorcade reached U.S. 41 at about 11 p.m., the homecoming began in earnest. American flags adorned the sides of the road every 100 feet for 18 miles - all the way to Owensville. Hundreds gathered along the sides of the road with flags while police cars, emergency vehicles and firetrucks lit the way.
NOVEMBER 8, 2006
Visitation and Dillen's Birthday
Visitation was held at First General Baptist Church in Owensville from noon until 8 p.m. on Wednesday, November 8th. It was a beautiful fall day - bone clear and warm. It was Dillen's 15th birthday, but now sadness will tinge all of his birthdays.
The church was guarded in front by members of the Patriot Guard, by veterans groups, and by police officers from Owensville and Gibson County. Numerous veterans and Marines were present inside at the church all day and a Marine honor guard stood constant watch over James at the front of the church. A purple heart sat on a table nearby and an Iraqi Freedom medal sat on the lining of the casket, placed there respectfully by a fellow Marine.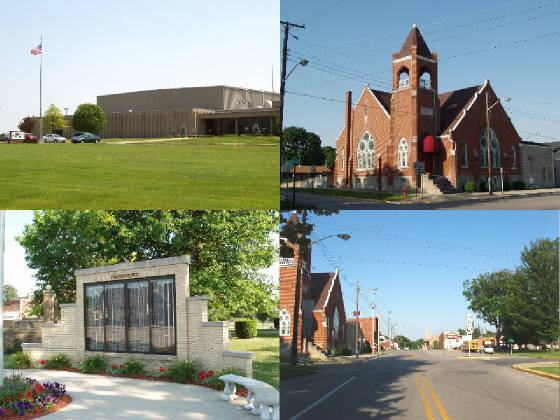 GIBSON SOUTHERN H. S., FIRST GENERAL BAPTIST CHURCH, VETERANS' MEMORIAL, OWENSVILLE
Talking to the veterans during the day was an extraordinary experience. One of them had won two purple hearts. He had been shot in the neck, shot in the mouth and hit in the back by an RPG, losing a lung. His father had won a purple heart too. Another veteran talked of his experiences at Chosun Reservoir in North Korea in 1952 when Americans were nearly overrun by Chinese forces coming across the Yalu River. Every one of them had an incredible story of horror and courage belied by the mellowness of their ages and their voices.
The Marines present during the three-day ceremony were detached from the Marine Reserve Center in Terre Haute under the command of Major Randy Hoffman. Casualty assistance and ceremonial arrangements were provided Staff Sergeants, Kevin Bruce and Tim Kosky. Many of the Marines present in Owensville over the three days had also served in Iraq. All of them spoke of returning to Iraq to rejoin their brothers there.
Starting at noon, small groups of solemn friends, many who graduated with James, visited the church. Many choked with tears and then stood in the back looking at family albums and sharing memories of their friend. After schools let out, the crowd increased. Many students who were underclassmen when James graduated came to pay their respects. Some of them were former football teammates of James and others were friends, hunting or fishing buddies, boxers or just friends. Some of the young people looked at James ... some could not. Nearly all of them were fighting a hopeless battle against tears.
When work let out, the crowd exploded. The church pews were nearing capacity and a line formed down the staircase, out the door and down the sidewalk for over two hours. New registry books had to be brought up for people to sign. We estimate that well over 1,500 people visited the church that day.
NOVEMBER 9, 2006 2 P.M.
Funeral
All Gibson School Corporation schools were let out at 12:30 p.m. and 12:50 p.m. on Thursday for James' funeral. Many students returned.
The funeral was held at the Gibson Southern High School gymnasium at 2 p.m. As people arrived, two parallel rows of very large American flags waved in the wind along both sides of the walkway in front of the school.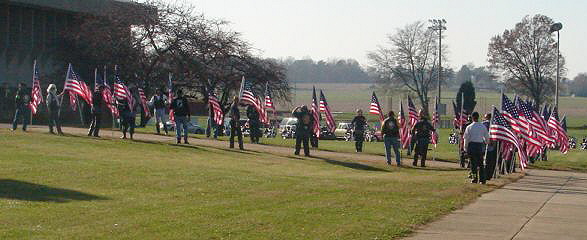 HONOR GUARD AT FRONT OF SCHOOL BEFORE FUNERAL (PHOTO BY MARY HESS)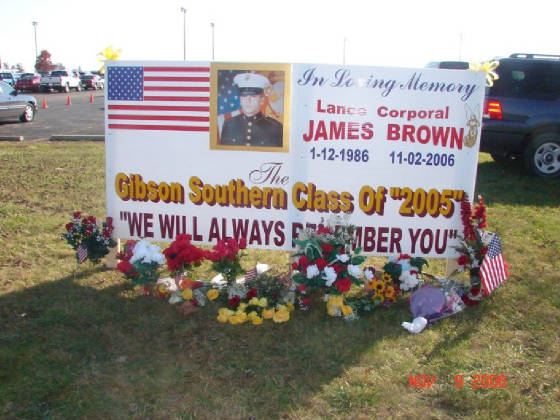 HIGH SCHOOL SIGN AND PACKED PARKING LOT FOR FUNERAL (PHOTO BY MARY HESS)
A huge cadre of Marines, veterans and police officers stood at attention. At least 1,500 people found their way to the gym, filling all of the floor seats and most of the bleachers on both sides. James rested in a closed, flag-draped casket in front of a flower-adorned stage.
The service began with a DVD program of James' life from infancy to enlistment, all set to the beautiful but gut-wrenching Pachelbel Canon in D. The room was awash in tears.
After several movingly-patriotic country songs were heard, two veterans spoke on stage together. One of them, Ben Benjamin, a member of the local VFW and Marine Legion, spoke of the many times James had talked to him about joining the Marines and had picked his brain on the realities of war ... realities that James accepted anyway. The two men noted that they were both combat veterans and were known as "comrades in arms" but that, when you die for your country, you become something more. Gesturing toward James' casket, they said, "here lies a patriot."
A representative of the American Legion then spoke while one of James' life-long and best friends, Jason Boyle, handed beautiful feathered roses and an American Legion memorial plaque to Jody, Dillen, Carma and Jamie ... hugging each of them tearfully as he did so.
Chuck Allen gave a eulogy which began with some humorous stories of James' days in the Evansville Boxing Club, but then turned to more serious issues. He pointed out that James' death, while a crushing loss, must never be thought of as a waste. James, during his few years with us, found Christ, loved his family, won the lady of his dreams, became a leader of men, became a hero for his country and earned the admiration and respect of everyone who ever knew him. What more can be said of a man, regardless of the length of his years?
He noted that soldiers must never be judged by why they are sent to war - something over which they have no control - but, rather, should be judged by what they do when they are at war. What James did, he said, was to protect innocent Iraqis - Iraqis trying to earn a living and support their families - from sectarian terrorists and insurgents who wanted to kill them. He was protecting people who were trying to build schools and hospitals from those who would blow up schools and hospitals.
Speaking to the many young people present, he noted that one day they would take their kids and grandkids to Washington and touch James' name on the Iraq War Memorial and cry, but look at the monuments at the capitol and suddenly understand what James gave us ... and why.
Rev. Douglas concluded with a stirring sermon about James and his fiance, about their coming to his chuch, about James finding Christ and being baptised. Rev. Douglas spoke of James' enthusiasm for becoming a Marine and how even he, Rev. Douglas, wanted to sign up after talking with James. He spoke of James as "one of the best" at everything he attempted. James was the best at football, winning his team's vote as most valuable player, his team's captaincy and all conference, all-county and all-state honors his senior year. James was the best in boxing, winning two Golden Gloves championships and never losing an amateur bout. And James was the best at being a Marine -- a natural and respected leader, elevated quickly to a role of ultimate responsibility leading men in combat.
As the Marine Corps Hymn played slowly, the crowd wept but spontaneously stood in respect. Then, as strains of America, the Beautiful were heard, a six-man Marine honor guard carried James down the aisle with the assembled group following closely behind.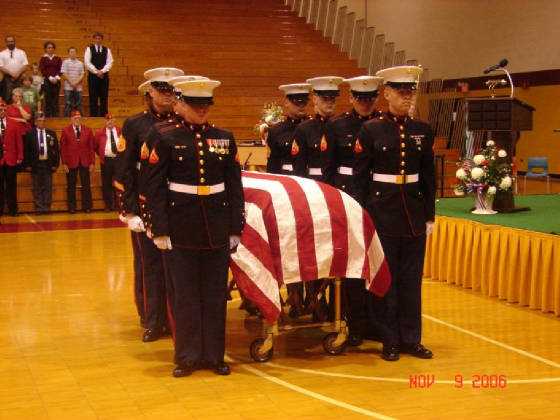 THE FUNERAL SERVICE ENDS (PHOTO BY MARY HESS)
NOVEMBER 9, 2006 4:30 P.M.
Burial
After the funeral, a mile-long funeral procession passed through Owensville on the way to Saulmon Cemetery just north of Poseyville. Hundreds turned out in Owensville to pay respects to James and his family. People stood in their driveways with flags. Nursing home patients came outside on walkers and in wheelchairs to salute the procession. Firetrucks created a flagged-arch through which the motorcade proceeded at the town square.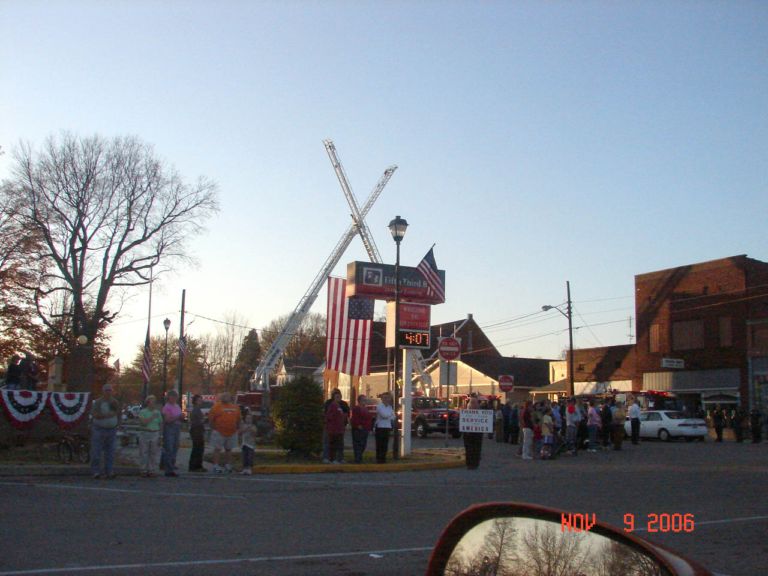 APPROACHING OWENSVILLE AFTER THE FUNERAL (PHOTO BY MARY HESS)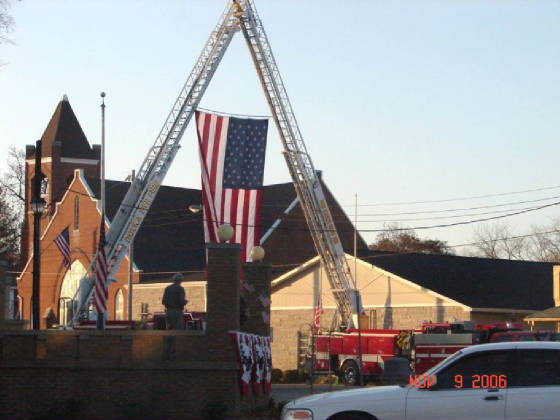 A FIRE-LADDER ARCH AND FLAG AT THE TOWN SQUARE, 4 P.M. (PHOTO BY MARY HESS)
The procession route from Gibson Southern High School to the Seulmon Cemetery covered 15.8 miles and passed through the town square in Owensville. The procession was more than one mile long.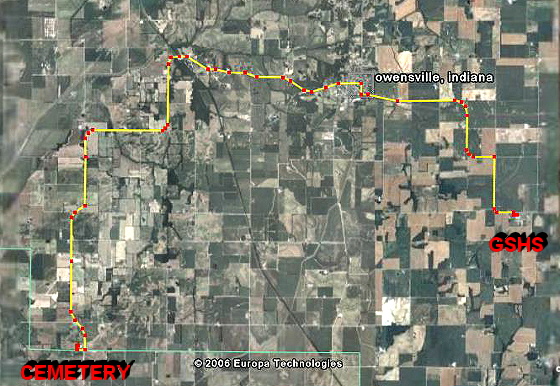 At the cemetery, James was laid to rest next to his step-father, Edward Van Antwerp, with hundreds standing behind the family and across the hillside above the gravesite.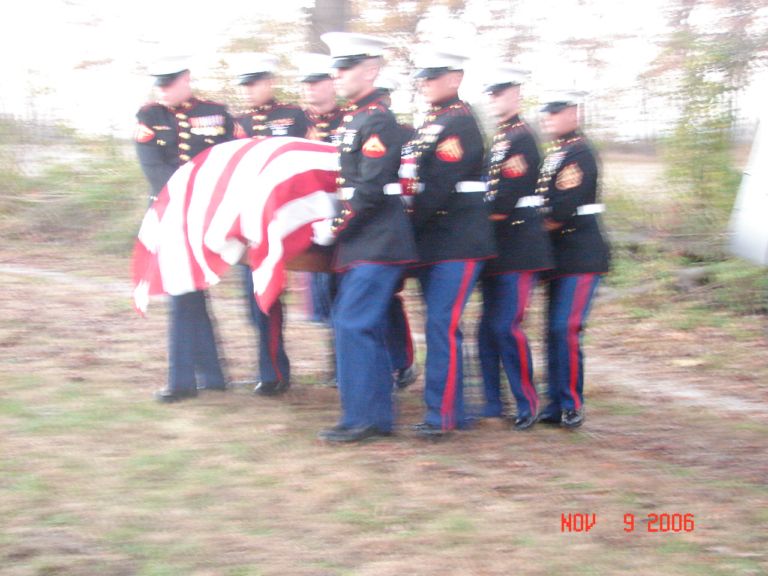 MARINE GUARD AT CEMETERY (PHOTO BY MARY HESS)
After a 21-gun salute and the playing of Taps, bag-pipers played in ever-softening, more distant tones as the sun set on what had been a warm, calm, clear day. Flags and purple hearts were presented to Jody and to James' father, James Ling.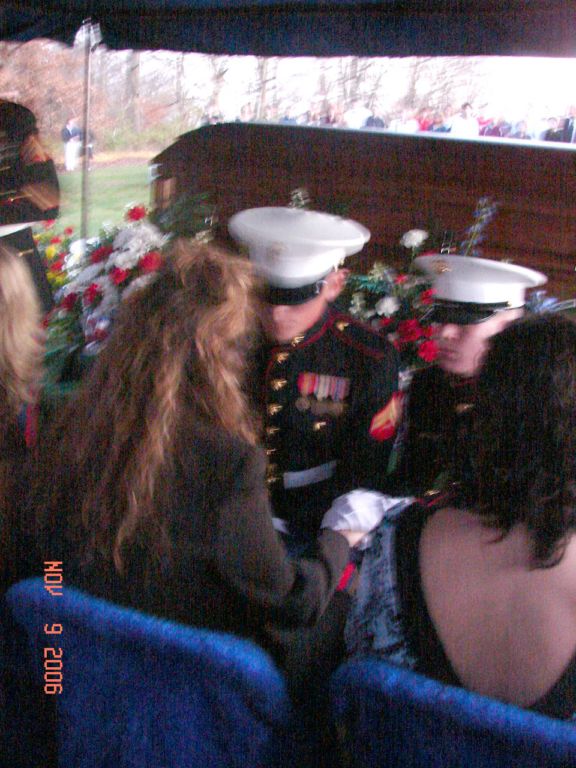 FLAG PRESENTATION (PHOTO BY MARY HESS)
James rests mere yards from his boyhood home and just over a rise from the woods where he used to play. His family lives just four miles to the north.
Several hundred people reassembled at the church at 6 p.m. for an extraordinary buffet dinner which was the gift of all the churches in Gibson County. This was a time to meet, to talk and to reflect.
Three emotionally-draining days were now over. But in those three days, the people of Owensville and Gibson County, and all of James' many loyal friends, distinguished themselves by their extraordinary commitment to their troops, their veterans and their country ... and by their outpouring of love and respect for a young and fallen hero, James Eric Brown, and his family.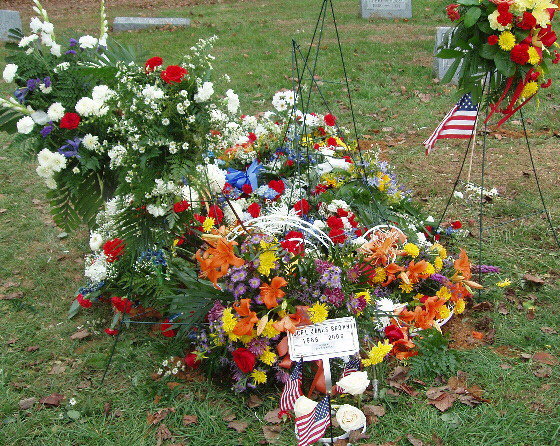 VETERAN'S DAY, 2006 - THE DAY AFTER THE BURIAL
WHERE A HERO RESTS
Saulmon Cemetery
If you would like to pay your respects to James, he is buried next to his step-father, Edward Van Antwerp, in the very northeast corner of the Saulmon Cemetery in southern Gibson County.
When you enter the cemetery, bear right along the lightly-graveled car tracks and follow the path down the treeline to the back-right (northeast) corner of the cemetery. James' beautiful black headstone is always well-marked by flowers and flags and is right next to Edward VanAntwerp's grave marker.
The exact coordinates of this sacred place are (copy and paste into Google Earth):
38 12 10.85 N 87 46 58.87 W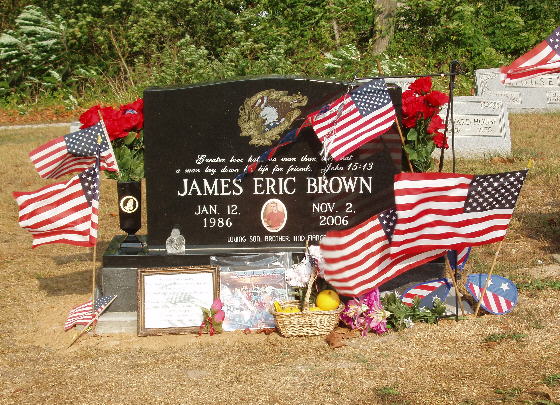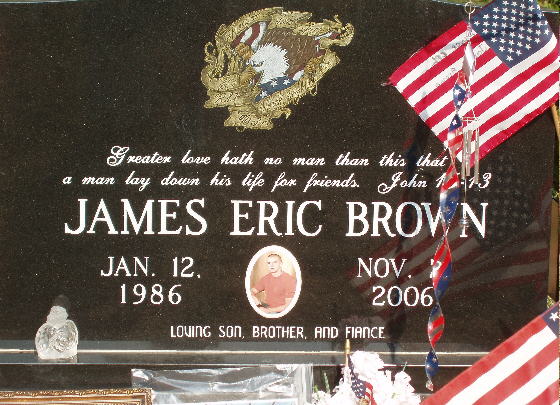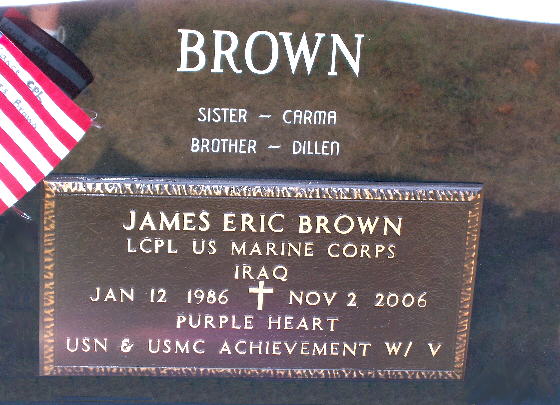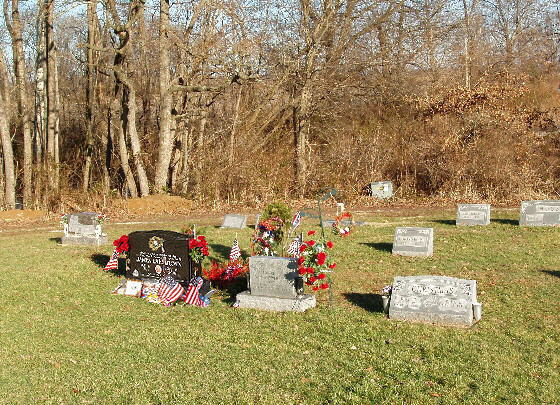 From I-64 (see map below). Exit the interstate at the Poseyville Exit (exit 12) and travel north 1.2 miles on Highway 165. At the green Gibson/Posey County Line sign, turn left and travel one-tenth of a mile (about 200 yards). The cemetery entrance is marked by two white rails on your right.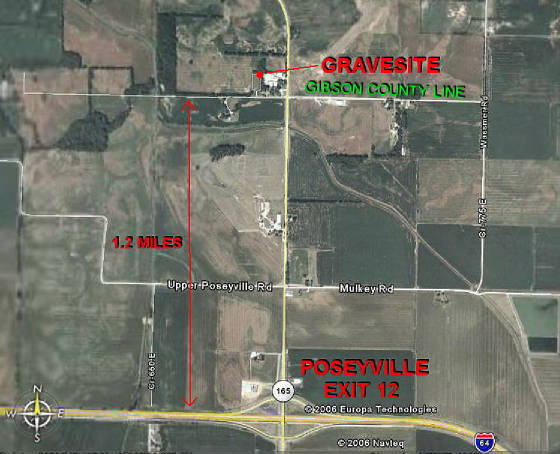 From Owensville (see map below). Take Indiana Highway 165 west out of town (not Highway 65!) and go 10.3 miles to the Posey County line. At the green Posey/Gibson County Line sign, turn right and travel one-tenth of a mile (about 200 yards). The cemetery entrance is marked by two white rails on your right.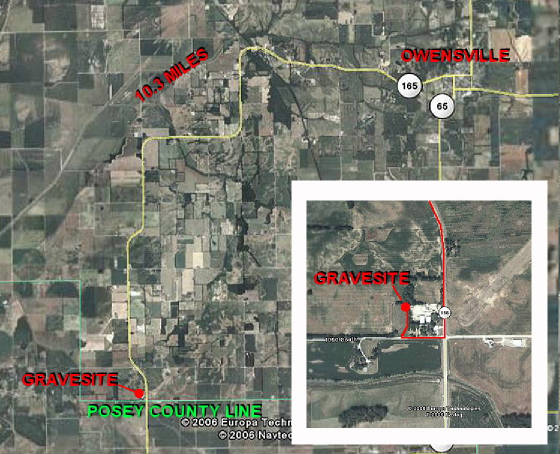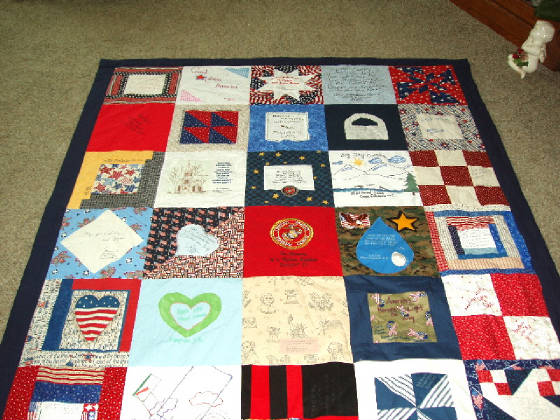 QUILT SENT TO JODY BY THE MARINE COMFORT QUILT GROUP