James was born on January 12, 1986, in Evansville. From age 9 until he left for the Marines, he lived with his mom, Joanne ("Jody"), his sister, Carma, now 17, and his brother, Dillen, now 15, in rural Gibson County southwest of Owensville, Indiana.
When James was in grade school, his mom married Edward Van Antwerp. Eddie bonded tightly with James, teaching him to hunt and fish and encouraging him in his many sports.
James played basketball and baseball throughout his youth. He became an athlete of exceptional talent and strength and one known for ferocious intensity. He played basketball for Owensville Middle School for three years and made the South Gibson AAU basketball team.
When James was only 11, however, Eddie was killed in a tragic auto accident. Eddie's death was a hugely traumatic event in James' life. James had to shoulder a lot more responsibility for his family and became very protective of them.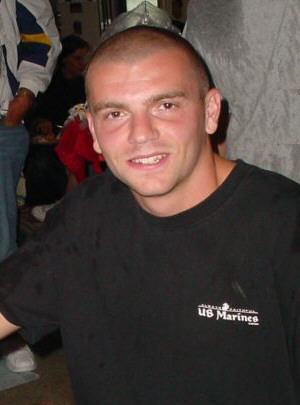 GOING AWAY PARTY - JUNE 12, 2005
At Gibson Southern High School, James became an accomplished iron-man football player and played three years of varsity ball. On offense, he played offensive tackle and later tight end and, on defense, he played defensive end until his senior year when he moved to middle linebacker. When he played defensive end against Pike Central in 2003, the Pike Central team did not run a play to James' side of the field the entire game (a 50-0 Gibson Southern win called at halftime due to lighting failure). No one likes getting hit by a freight train.
After his senior season, James was named to the All-Pocket Athletic Conference Team and to the All-Gibson County Team. He was also named to the Indiana All-State honorable mention team. He won his team's Iron Man Award and his teammates voted him Most Valuable Player.
James met his responsibilities on the football field the same way he met them at home and in the marines. Quarterback, Justin Brewer, recalls the ferocity and loyalty with which James protected him on the field and recalls James being the first to speak to a lineman who let someone reach him. In the same way, James was fiercely protective of his mom, his family, his friends, his fellow marines, anyone being picked on by someone bigger and, ultimately, each of us.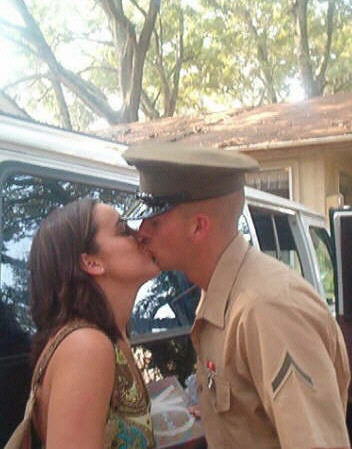 James joined the Evansville Boxing Club in late 2002 and his first fight came at the highest possible level, the semifinals of the 178 pound division of the 2003 Indiana Golden Gloves tournament in Indianapolis. Fighting before a crowd of 1,500 on April 24, 2003, James and his muscular opponent went toe-to-toe and fought pretty evenly for about 15 seconds … until his opponent made the mistake of bloodying James' nose. James went into "brawl" mode. He pursued his opponent all the way around the ring with monstrous rights, some of them coming from behind his knees, until he pile-drove his opponent into the floor and into the first of two standing eight-counts. The fight lasted only 51 seconds and half of that time was taken up with eight-counts. A week later, James won the champion's jacket.
Two years later, James returned to boxing and signed up for the 178 pound division at the 2005 Golden Gloves, but no one in his division would fight him. They withdrew. So, he won the 178 pound title by walkover. But officials at the Gloves permitted a matched bout in which he fought the 201 pound champion on May 5, 2005. James got eight-counted in the first round and his trainer told him to move his head more because he was getting hit too much, to which James cooly responded, "why? ... he can't hurt me." James was right. He came back furiously over the next two rounds and won the fight by judges' 4-1 decision. James never lost an amateur fight in his life, sanctioned or otherwise (wink).
James graduated from Gibson Southern High School in 2005, but long before graduation, he had decided to pursue a career in the Marine Corps. He wanted badly to serve his country after the events of 9-11 and he commited to serve during a time of war.
On June 19, 2005, James left for boot camp at Parris Island and achieved amazing physical conditioning, even running a mile in under five-minutes. He graduated on September 16, 2005, already promoted to Private First Class. Normal promotion to Private First Class occurs between 6 to 8 months after entering basic; James was promoted in less than 3 months.
James graduated from the two-month long School of Infantry (SOI) at Camp Geiger, North Carolina, on December 19, 2005 and later attended Desert Combat Operations Training ("CAX") near Twenty-Nine Palms, California.
He was permanently assigned to the Third Battalion, Second Marines, II Expeditionary Force, known as the Betio Bastards or "3/2", based at Camp Lejeune, North Carolina.
James was impressive and successful as a young Marine and, when he returned home on leave in September 2005, his leave was extended so he could help with marine recruiting in southern Indiana. In April 2006, James was promoted to Lance Corporal, a second promotion in less than 10 months' service.
Just before leaving for Iraq in July 2006, James proposed to his girlfriend, Jamie Coleman, whom he had met in third grade. They planned to get married when James returned from his seven month tour in Iraq in February, 2007.
On July 11, 2006, James was deployed to Iraq. He was a rifleman assigned to India Company in the 3/2's Regimental Combat Team 5. James was stationed at a Forward Operating Base called Camp Habbaniyah which is located on the Euphrates River about nine miles west of Fallujah in Al Anbar Province, a notorious zone that includes the dangerous western road connecting Syria with central Iraq. More than 1,000 American soldiers had died in Al Anbar when James was killed, more than in any other province. Earlier in the summer, the military had begun sweeping farmhouses outside of Habbaniyah because of frequent insurgent activity and sniper attacks.
While in Iraq, he would always find time to call his family, Jamie, his marine buddies and his friends. But, on October 31, just two days before he died, he made eight calls home ... an unusual number. Something seemed to be bothering him. He mentioned to friends, but not family, that they had "lost some guys" and that he was anxious to get home, but could not say more and did not want to worry his family. In fact, in the space of one month, two Marines in his 14-man squad had been killed by IEDs. They were LCpl. Donald Champlin, 28, and LCpl. Rene Martinez, 20.
During October 2007, James' 3rd Platoon was assigned to two observation posts, OP Bears and OP Cubs, located five miles west of Camp Habbaniyah. The OPs are houses used as observation points along "Michigan Avenue", the main highway connecting Fallujah and Ramadi. James' 3rd Squad and the 1st Squad were assigned to OP Bears located on the north side of the highway.
At 11 a.m. on November 2, 2006, a warm sunny morning, James went up to the roof to stand three hours of guard duty in the highest of four sandbagged wooden observation posts. Two other Marines were in lower posts. Below, the rest of the squad was sleeping, writing home and performing routine chores. As James went up to the roof, he passed two other Marines and asked them to bring him a pizza.
At approximately 11:05 a.m. (1:05 a.m. CST), a single shot rang out. A sniper's bullet, fired from 300-400 meters away, entered the open east side of the high post and, according the Dover autopsy report, struck James in the front of the neck and exited through the spine in back.
Approximately five minutes later, LCpl. Leroy Parker found James slumped against the side of the M240G machine gun. Soon, Navy Corpsman, Reed Hall, rushed to the roof and attempted CPR and mouth-to-mouth resuscitation.
Having no success, the Corpsman performed an emergency tracheotomy on James in a desperate attempt to restore his heartbeat and breathing, but all to no avail. MedEvac and REACT vans quickly arrived on scene and a second Corpsman with REACT rushed to the roof to examine James, but soon sat back with a resigned "sorry guys." A host of America's toughest men stood by crying.
James was the third member of James' 14-man squad to lose his life in the space of just three months.
James died on the 7600th day of his life and 6,588 miles from home. He was the 2,826th American battle death in Operation Iraqi Freedom. According to the DOD and VA, James was also the 653,854th American to give his life for his country ... the first such American being a man of the same last name, John Brown, who died on Lexington Green 231 years, 6 months and 13 days earlier.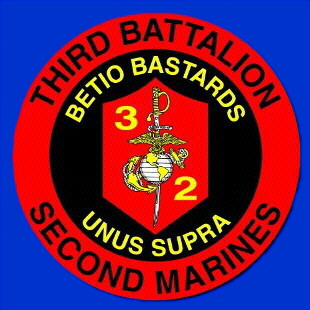 Marines always find themselves in harm's way. A University of Buffalo study revealed that Marines suffer a fatality rate nearly three times higher than all American forces combined. And the Marine rank suffering the highest mortality rate is that of lance corporal - James' rank. Eight American soldiers were killed in Iraq on November 2, four of them Marines and three of them lance corporals.
Knowing James as we do, it should not surprise us to learn that James placed himself in the heart of the fight, wearing a vulnerable rank in a vulnerable service and serving in Iraq's most dangerous zone. It was always his nature to accept the greatest challenge ... to back up the middle of the line in football ... to take on the boxing champion in the weight class above him. Such was his courage.
He wanted to be a combat soldier and he wanted to go Iraq. He made that decision knowing that Americans were dying there and after talking to several purple-heart veterans about the realities of war. And in the same way he led his football team and boxing team, he wanted to be exactly where he was - leading men into the belly of the beast.
He returned home a hero – a hero to his family, his friends and to patriotic Americans everywhere. He was buried with full military honors. More people attended his funeral at Gibson Southern High School than live in his entire home town. He will be remembered with everlasting respect by those who loved him and by many who did not even know him. The people of Indiana will certainly never forget him. Hoosiers never forget their fallen soldiers. Any visit to Indianapolis will attest to that.
Someday, even people who oppose the Iraq war will appreciate the great importance of the battle being waged there. They will appreciate soldiers like James who give everything they have to protect innocent people and who try to turn back sixth-century barbarism in favor of freedom for a people they don't even know.
For the lack of heroic people like James, where would our country be? Where would any of us be? When you finish reading this, go back to the top of this page and look at James and the eagle above him. That says it all.
God bless James Brown who gave all of his tomorrows for the rest of us.
God bless James' high school friends and former teammates who are serving our country today:
Specialist Darin Dewig
US Army, WA (served in Iraq)
Specialist Benjamin McKinney
US Army (served in Iraq)
Seaman Quartermaster Jon Smith
US Navy, Japan
Airman Nathan Wicker
US Air Force, AZ
PFC Andy Garrett
US Marines (now in Iraq)
PFC Jeff Klump
US Marines, SC
Airman Alex Haley
Ind. Air Nat'l. Guard (now in Iraq)
And God bless all of James' comrades in arms in the United States Marine Corps and all troops who serve our country so nobly.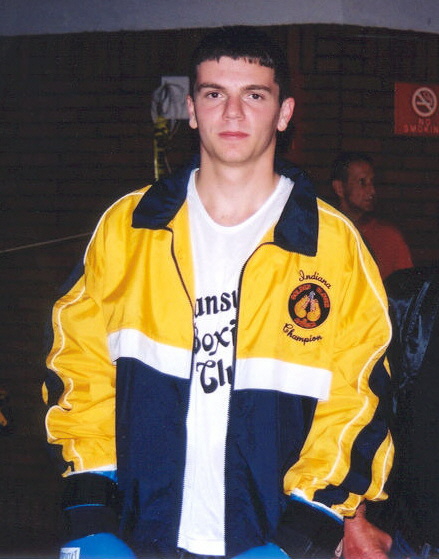 JAMES AFTER WINNING THE 2003 GOLDEN GLOVES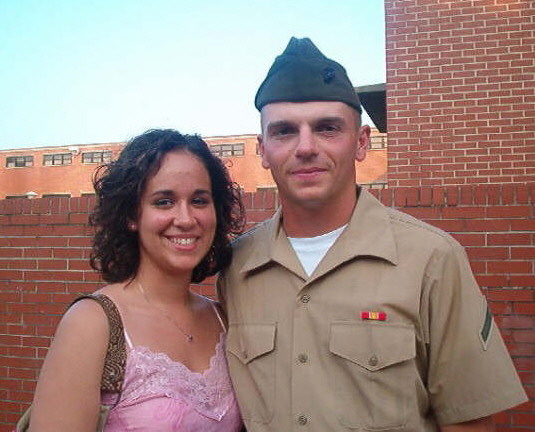 JAMES WITH FIANCE, JAMIE COLEMAN, AT PARRIS ISLAND GRADUATION, SEP. 16, 2005.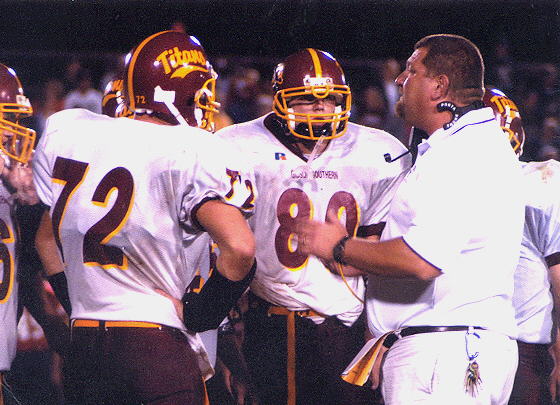 A TIME OUT WITH COACH OBERMEIER, FALL 2004.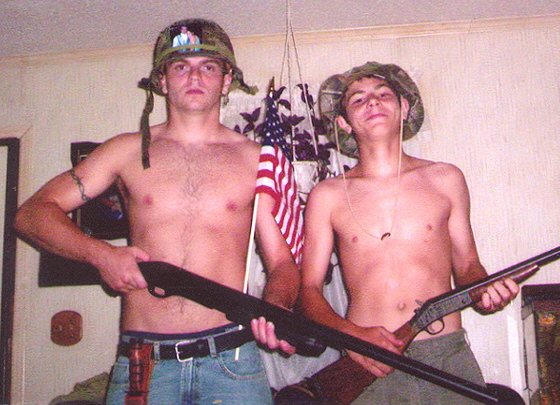 JAMES AND HIS BROTHER, DILLEN, THEN 13, JUST BEFORE BASIC JUNE 10, 2005.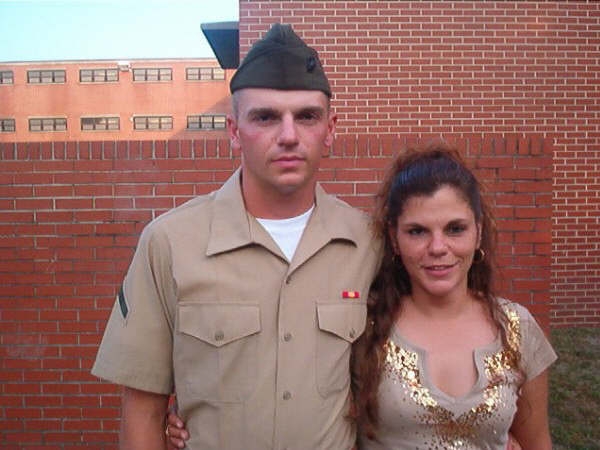 JAMES AND HIS MOM, JODY, AT PARRIS ISLAND GRADUATION, SEP.16, 2005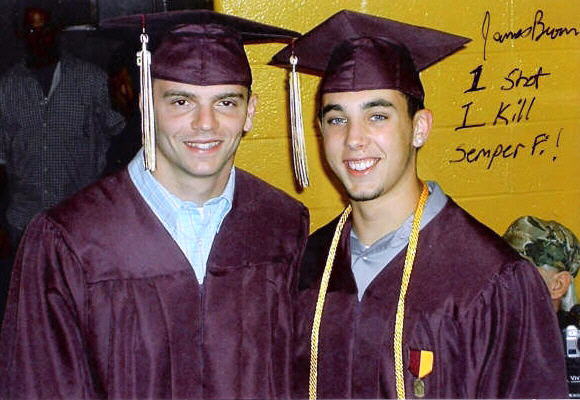 JAMES AND CLOSE FRIEND AND FOOTBALL TEAMMATE, JASON BOYLE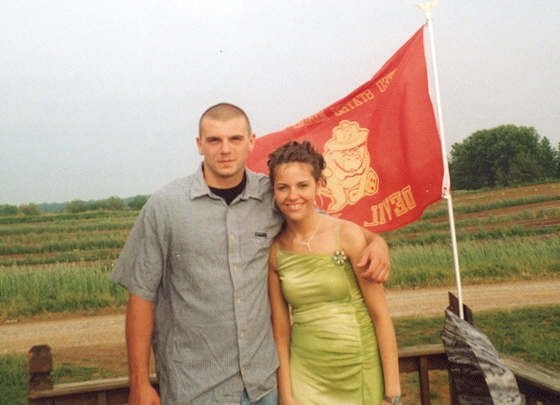 JAMES WITH SISTER, CARMA, SEPTEMBER 2005.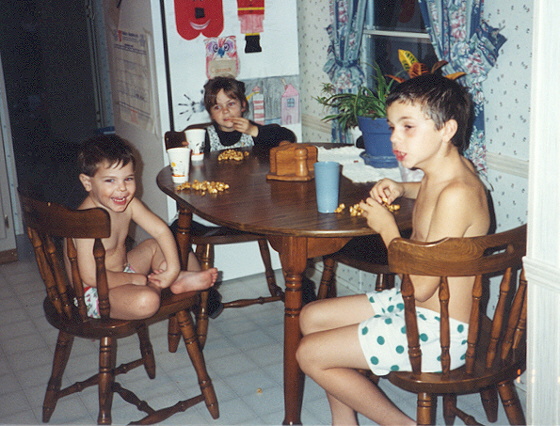 DILLEN, CARMA AND JAMES, NOV. 2, 1994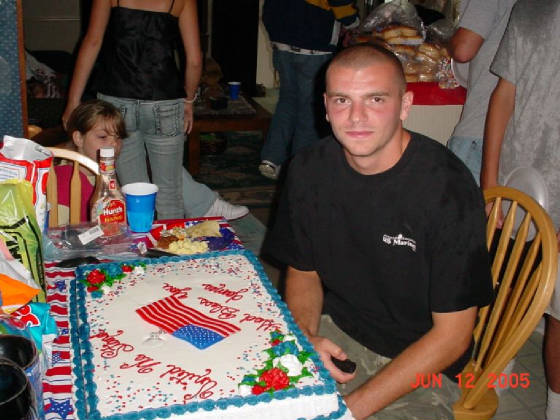 JAMES AT HIS GOING AWAY PARTY, JUNE 12, 2005. (PHOTO BY MARY HESS)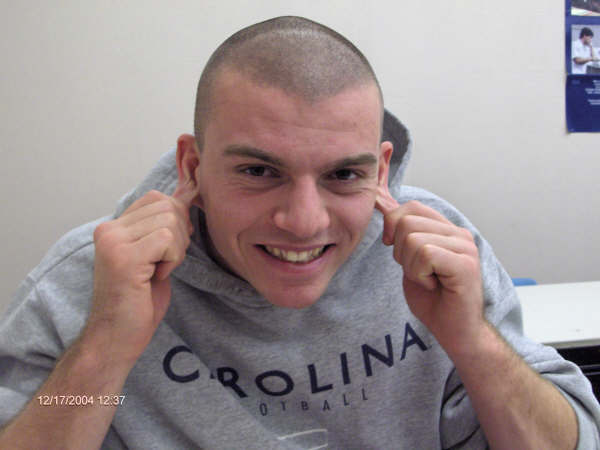 JAMES CLOWNING FOR FRIENDS AT SCHOOL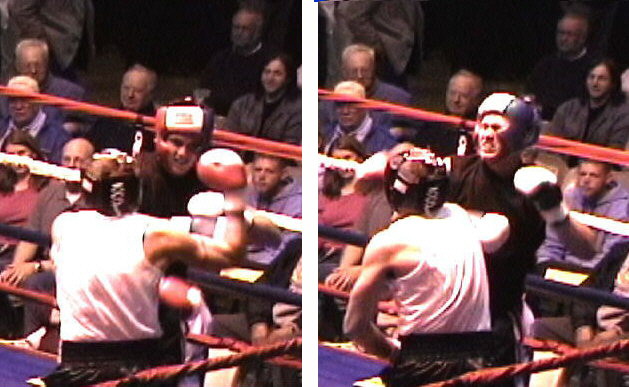 JAMES' FIRST BOUT AT 45 SECONDS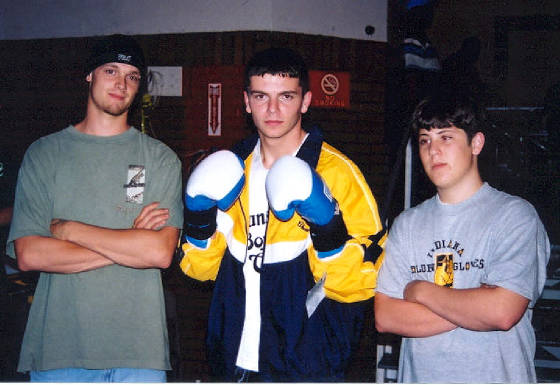 JAMES WITH JOEY HAMMOND (LEFT) AND CALEB PFOHL, MAY 17, 2003.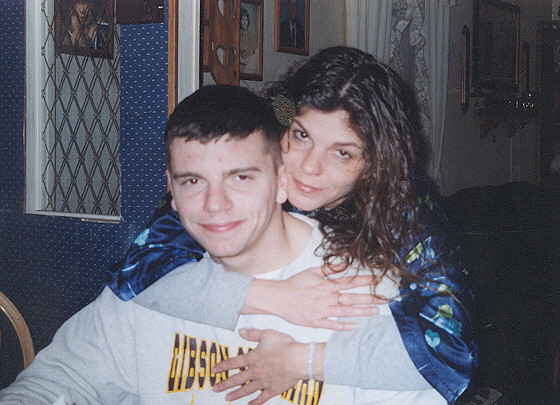 JAMES AND HIS MOM, 2002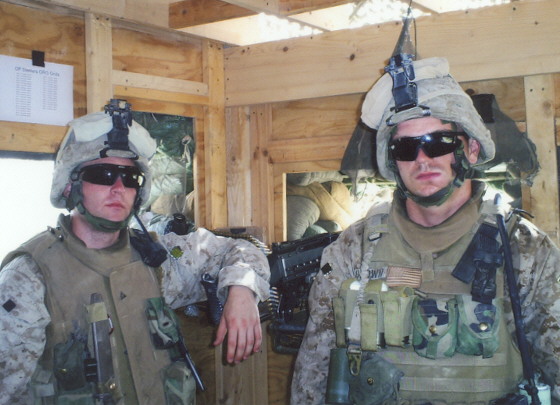 ON SENTRY DUTY AT OP STEELERS IN IRAQ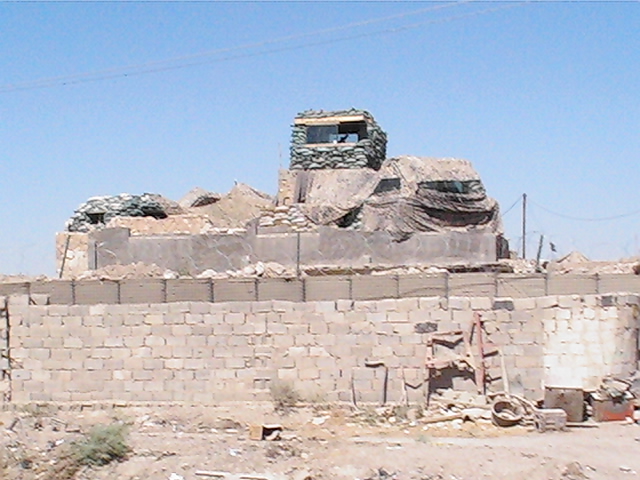 OP BEARS. JAMES WAS HIT THROUGH THE WINDOW WHERE THE MARINE IS STANDING.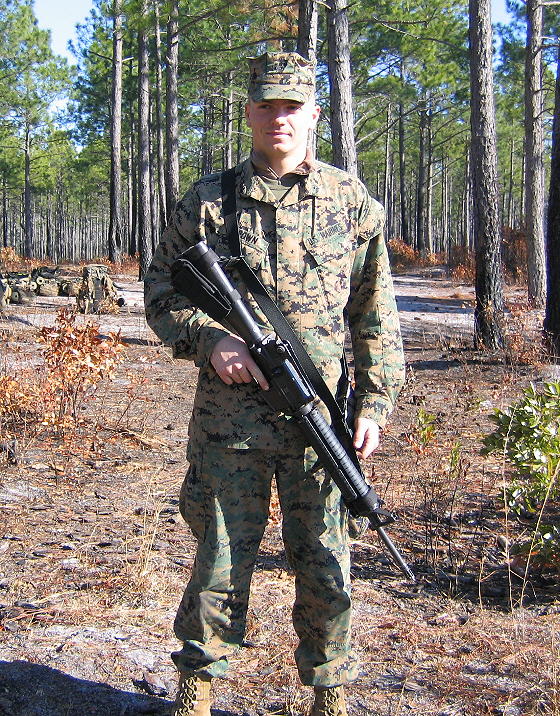 JAMES AT CAMP GEIGER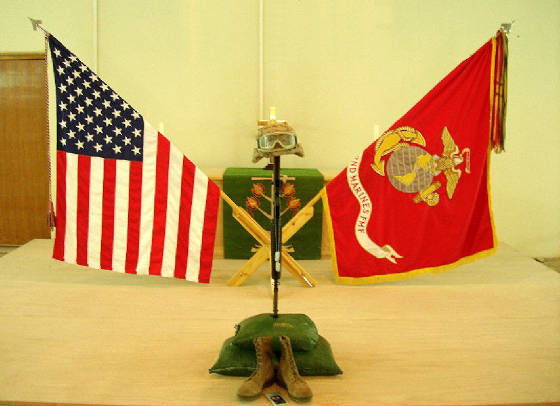 INVERTED RIFLE CEREMONY - CAMP HABBANIYAH - NOV. 16, 2006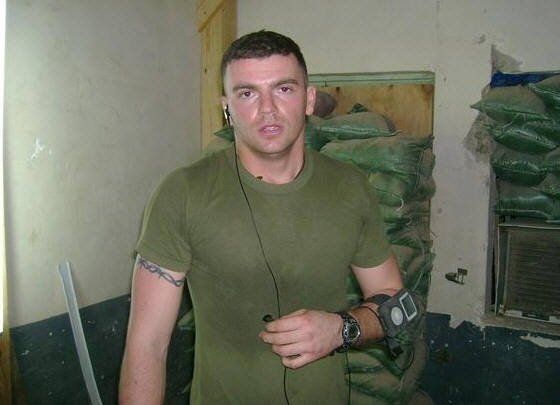 ONE OF LAST PHOTOS OF JAMES AT OP BEARS