This page is dedicated to Jody, Dillen, Carma and Jamie, and to James' close friends, as they each move on with their lives - lives that James lived and died to defend.
Here, you will be able to follow Dillen through his sophomore season as a football player at Gibson Southern and follow Dillen and Carma as they pursue amateur boxing. You can follow Jamie as she pursues a college degree at U.S.I. and keep up with many of James' friends including Darin Dewig and Ben McKinney who are both serving their country in Iraq.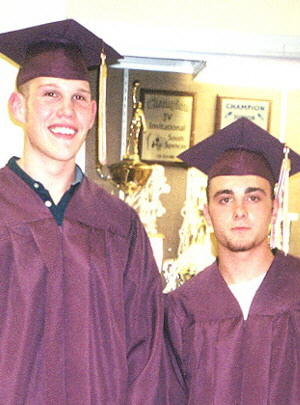 JAMES' FRIENDS, DARIN DEWIG AND BEN MCKINNEY, AT THEIR 2004 GRADUATION. BOTH ARE NOW IN IRAQ.
A BOXING BROTHER
When James was pursuing his second Golden Gloves title in 2005, a close friend and football teammate, Jason Boyle, took interest. He came with James to practice at the Evansville Boxing Club in the winter of 2005 but was too busy with graduation, college plans and work to make a go of it. While a freshman at Indiana State in the fall of 2005, he began practicing in earnest with the Sweat Box Boxing Club in Terre Haute, but soon broke his leg playing tackle football.
Now, Jason is transferring from ISU to USI and taking a semester off to work ... and to honor his friend, James, by taking his turn in the ring. In January, Jason joined the Rock'em Sock'em Boxing Club in Evansville and began training for the 2007 Indiana Golden Gloves.
Jason dropped from his football playing weight of 180 pounds to 165 pounds. He began sparring with people like Danny Thomas, his coach and a former Golden Gloves champion, and with Ray Stallings, the best open boxer in last year's Golden Gloves.
For the better part of two months, Chuck Allen tried to find Jason a local show so he would not have to enter the Golden Gloves completely green, but few shows were held. Hardly anyone wins the first time they box, especially in the pressure cooker of the biggest tournament of the year with over a thousand people watching, but that was the task facing Jason.
Jason entered the 165 pound weight class of the junior open division, a division limited to 20-34 year-olds with 5 or fewer bouts. Seven boxers entered his division.
Quarterfinals
His first bout came on March 22 against Jose Rebollar of the Broad Ripple Boxing Club in Indianapolis. Jason seemed amazingly relaxed, bounding into the ring and shadow-boxing. Most rookies have a deer-in-the-headlights look.
Jason's first round was marked by high speed left-right combinations. They were not ideal punches from a boxing standpoint, but they came rapid-fire and with ferocious intensity. The judges had him leading by an average of 9-5 after the first round -- a good lead. The judges had round 2 about even, but Jason used poised attacks in the third to win on all five judge's cards by an average final punch count of 21-13. He would advance.
Semifinals
On Saturday, Jason ran steps at the Reitz Bowl. This was not a good "taper" for Jason whose legs were still sore and tired when he entered the ring on March 29 to box Jamaal Williams of the Bad Boyz Boxing Club and formerly of Brooklyn, New York.
In round 1, Jason was pinned up against the ropes and took some wicked shots, drawing an eight-count from the referee. Most judges had Williams ahead by 4 to 5 punches in round 1.
Round 2 started no better, but help came about 30 seconds into the round. Jason rocked Williams during a simultaneous punch, but the referee gave an eight-count to Jason instead of Williams. Jason was frustrated, but it made him mad and the mistake inflamed the 1,200 person audience. People began throwing trash and peanuts at the referee, some trash landing in the ring. The crowd now behind him, Jason came back and forced Williams to protect himself by pushing Jason into the ropes, drawing cautions from the referee. Jason won round 2 and was closing the scoring gap.
In round 3, Jason tore into Williams who continued pushing and drew a formal warning (2 punch penalty). Jason then cracked Williams with repeated combos including one straight right to the face at mid-ring. Williams' hands dropped, a sure indication that an eight-count was needed, but none was called. But the shot took its toll on Williams who could only respond to Jason's withering attack by pushing and smothering.
Jason continued to crank from underneath. When ordered to break, Williams began draping himself on the ropes for support. Finally, Jason launched one last fusillade of punches and Williams pushed him into the ropes, drawing a second warning (2 punch penalty). Before the penalty could be administered, Williams turned and dropped to his knees, ending the bout.
Finals
Jason fought in the championship match on April 19 against an extraordinary boxer, Daniel Luna of the Lafayette Boxing Club. The referee stopped the bout in Luna's favor following a third eight-count, by rule. (Luna won in round 1 of his prior bout as well and was named Outstanding Junior Open Boxer in the tournament.) But Jason was clearly the aggressor against Luna and his displays of courage in the ring during his two wins and during the final were something special to see ... the kind of courage his friend, James, would have admired.
JEFF KLUMP, USMC
"What's up, Klump?" With those words, James began the last conversation he would ever have with any family member or friend back in Indiana.
Jeff Klump answered James' call at 6:15 a.m. on October 31, 2006. James had just under 19 hours to live. James' call to Jeff was the last of a series of calls he had made to his family, Jamie and several other friends that morning.
At first they joked about their parties as teen-agers ... talking about the "Titan Tackle", a spearing tackle that James was known to use at parties. But then James' tone changed and he spoke to Jeff about wanting to come home. He missed his family and Jamie, missed hunting and was sad about losing two Marine buddies to IEDs in Iraq. He told Jeff that he did not get scared until he heard gunfire and that, "from there, it's the adrenaline" that kept him going. Jeff told him to "be strong and be careful." James said "later, man."
Nine days later, Jeff hosted a wake at his house for many of James' friends. A few weeks later, Jeff looked to the sky begging for a sign from James before confronting someone with whom he had issues ... and saw a shooting star.
Jeff has chosen to enter the Marines himself and is dedicating his service to James. Jeff will have a going-away party on July 14th and will leave for Parris Island on July 28th.
ANDY GARRETT, USMC
Andy, a former football teammate of James', entered the Marine Corps on February 15, 2007, and completed basic training at the Marine Corps Recruit Depot San Diego in May. He returned home 30 pounds lighter, telling Jeff Klump that, "whatever you are doing to get ready ... it isn't enough."
Andy is from a family that has dedicated itself to the service of the United States. His dad, John Scott Garrett, is a fomer U.S. Army Ranger. His sister, Sara Garrett, is a sergeant in the Army Reserves with Iraq service. Three cousins, Bill Rainey, Zeb Ping and Dylan John, are all current or former members of the U. S. Marines Corps.
Andy, who lives in St. Louis, now, was back home in June and visited friends in Indiana. He is now off to Armor School at Ft. Knox.
Andy had known James since 3rd grade and remembers his cousin Bill coming to school in dress blues and James expressing interest, even then, in becoming a Marine.
Andy played sports with James throughout their childhood and played defensive tackle and offensive guard on the Gibson Southern football team with James. He also worked with James at Kenny Dewig Meats in Owensville during their senior year in high school.
Andy has also dedicated his Marine service to James.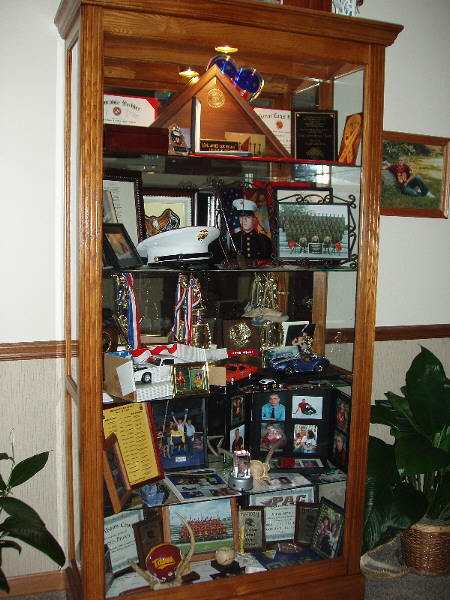 MEMORIAL TO JAMES AT HIS MOM'S HOUSE IN OWENSVILLE.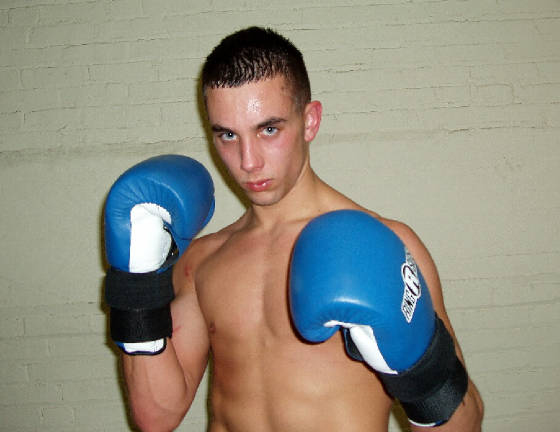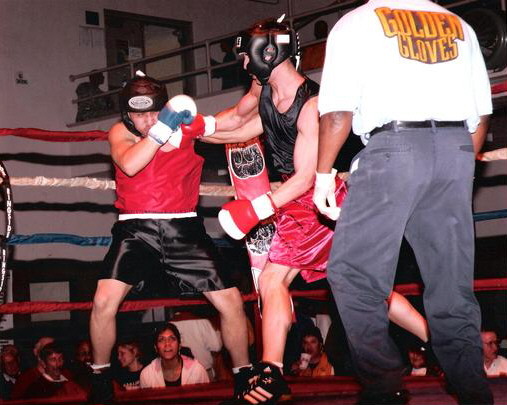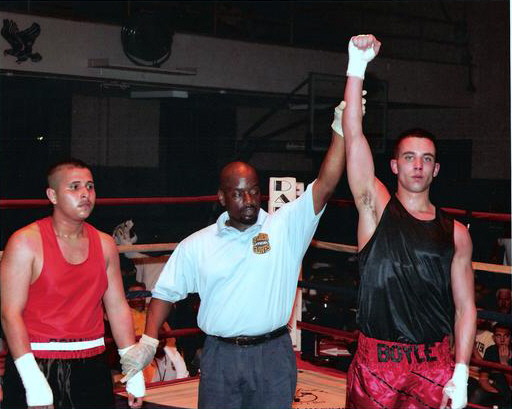 JASON WINNING 5-0 DECISION OVER JOSE REBOLLAR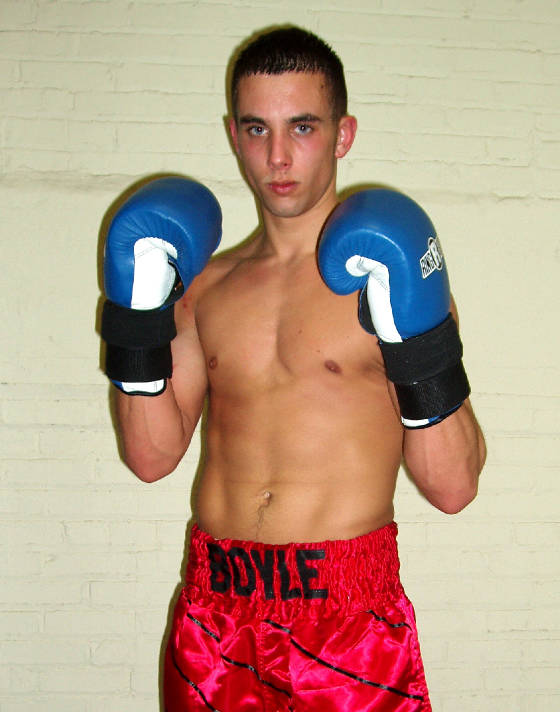 JASON AFTER ROUND 3 RETIREMENT BY JAMAAL WILLIAMS
.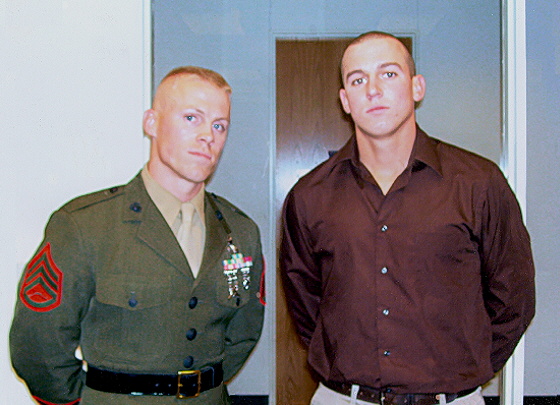 JEFF WITH HIS MARINE RECRUITER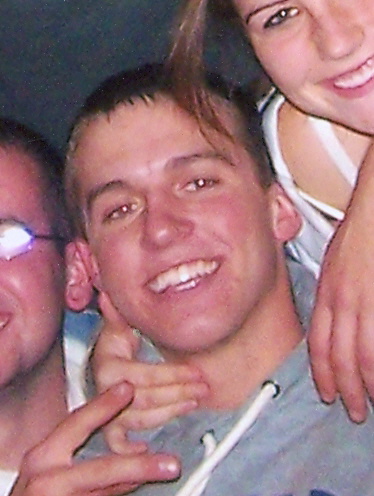 JEFF AT JAMES' WAKE, NOVEMBER 9, 2006
.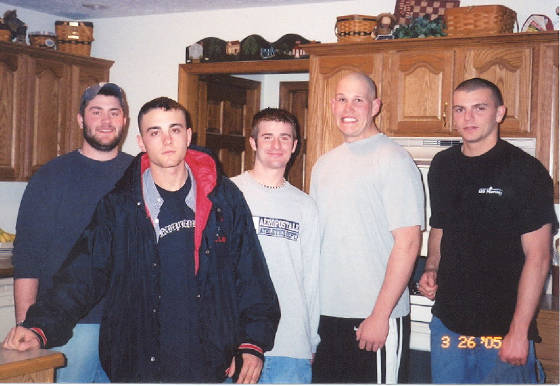 ANDY, BEN McKINNEY, NICK JOHN, DARIN DEWIG AND JAMES, MARCH 2005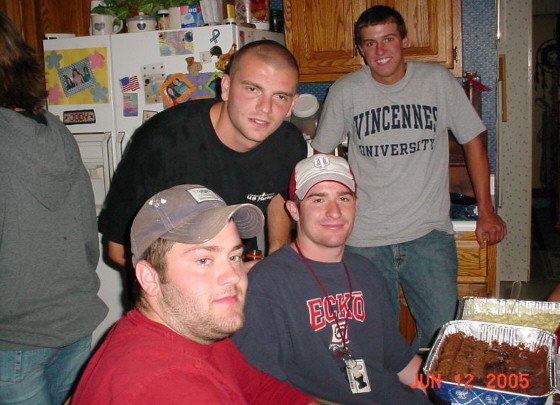 ANDY, LEFT, AT JAMES' GOING AWAY PARTY, JUNE 12, 2005